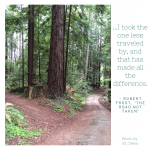 Frequently Asked Questions Regarding the Next Path for A Yarn Less Raveled - Updated July 5, 2021

A Yarn Less Raveled will be closing our Danville store and transitioning to an online-only shop, with the process beginning July 5. We anticipate this process will take 4-5 weeks.

Please read the updated announcement in our July 5 newsletter. These FAQs provide more detail to specific questions you may have. We will update this page regularly to keep you updated. Please contact us if you have any questions not addressed here, and please understand that we may not have answers immediately, as the closure progresses.

Closing the Shop

Q: Why are you closing A Yarn Less Raveled and transitioning to an online shop?

The pandemic has taken its toll, our lease is up at the end of June (extended through July), and it's time for Mindy to explore new adventures. Please see the more detailed explanation in our July 5 newsletter.
Q: Would you reconsider closing the Danville brick-and-mortar shop?

While this announcement may be a shock to some, please know that this is a very thoughtful decision and it's definitive. Thank you for supporting us during the transition.
Q: What is Mindy going to do next?

She'll take a sabbatical, then she'll explore her next career options.
She'll continue to maintain the online shop, and she may even write a novel.

Gift Cards and Store Credit

Q: I have a gift card or a store credit - how can I use it?

Gift cards and store credit will be honored while our shop stays open (both brick-and-mortar and online). Please contact us if you have a store credit to use - we currently need to process those orders manually.
To enter your electronic or printed gift certificate number in the online checkout process, enter all the letters and numbers (with dashes) below the barcode.
If you have a physical, plastic gift card, enter the numbers, omitting all letters (e.g, A730Y123456 will be entered 730123456)
If you have any trouble using your gift card, please contact us at info@ayarnlessraveled.com for assistance.

Shopping and a Closing Sale

Q: I want to come in and shop before you close. What's your schedule?

We are now open to walk-in shopping on Tuesdays, Fridays, and Saturdays between 12pm and 4pm. No appointments are needed.
Masks (worn properly), hand sanitizing as you enter, and social distancing are still upheld for everyone's safety, regardless of vaccination status.
Q: Where can we go to buy yarn when the Danville shop closes?

When we close the Danville shop and transition to an online shop, you will have access to our familiar products anytime and we will restock select yarns as needed.
You may want to explore the other exceptional yarn shops in the greater Bay Area; they would welcome your business as we do.
Some of our yarns have been re-homed to other shops and will be available to you soon.
Q: Will there be a Closing Sale with discounts?

Yes, the Closing Sale will begin on Friday, July 9 with 20% discount on all merchandise, and will continue through July.
Shop early for the best selection of your favorite yarns, before they are sold or re-homed.
We will also have some free items available, including AYLR-logo gifts with purchase.
Q: What's the Fine Print for the Sale?

All sales are final - no exchanges or returns.
Discounts do not apply to clearance merchandise, gift cards, individual assistance, or Ravelry Pattern in-store sales.
All merchandise will be sold on a first-come, first-served basis, and is limited to stock on hand. No special orders will be accepted.
We are not able to support any personal services during this time: This includes winding, merchandise holds, pattern or project support, and project repairs. If you'd like help, you may make an appointment with Leslie.

Classes, Knit/Crochet Alongs, Events, and Project Help

Q: What will happen to your classes and KALs?

When the shop goes online, we may offer classes and KALs again via Zoom, which has the added benefit of being recorded.
Q: Who should I contact if I need project help?

Please email us at info@ayarnlessraveled.com. Leslie will continue offering project support either virtually via Zoom or in person.
Q: Will you offer virtual or in-person gatherings before the shop closes?

We will plan a celebration to take place toward the end of July or early August, as business winds down. We'll let you know as soon as it's planned!
Due to the ongoing pandemic risk, we are not offering in-store knitting or crocheting around the antique table, however, we'd be happy to set up a table outside the Learning Studio if you'd like to meet and visit.
Your Privacy
Q: When you close the shop, will you sell my email address?

We committed to never sell your personal information when you signed up for our newsletter and we stay committed to that promise.
When the shop transitions to online-only, your email address will remain in our newsletter system until you unsubscribe using the link at the bottom of all emails. You'll be able to stay current with any shop or class updates.
Your email address in our business system enables you to shop online and to receive electronic receipts. Please ensure we have your correct email if you'd like to stay in touch.